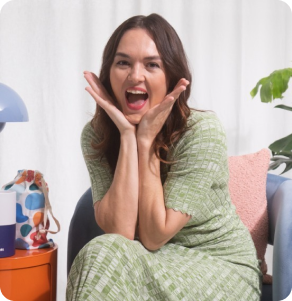 Lucy Wark
Co-Founder aka The Business
Lucy spent a decade wishing for a trusted guide to make exploring your sexuality a bit easier - and when no one showed up, Normal was born. She makes all the trains (and vibes) run on time.
Georgia Grace
Co-Founder aka The Pleasure
As a certified sex coach, Georgia Grace has helped hundreds of clients one-on-one in clinic. Georgia leads the creation of our educational resources, and shares her insights with over 60,000 people through her Instagram @gspot._.
Great sex should be, well, normal.
Our mission is to give everyone the information, confidence & tools for a lifetime of fulfilling sex.
But the sexual revolution isn't finished... yet.
From making the sex-ed you missed in school, to making beautiful modern toys you won't want to hide - we're here to help.
Things we believe in.
Education | Sales of our products help to fund the creation of free, expert-led digital education on safety, consent, pleasure & more.
Inclusion | We don't assume that our users are heterosexual or cisgendered, and we try to make our language as clear and easy to understand as possible, so you don't have to be a sex nerd to have a great sex life.
Sustainability | From compostable mailers & re-usable packaging to our digital product guides, we believe sexuality and sustainability go together.