The Sync Set
Get in sync with yourself, partners & friends using questions designed by sex coach Georgia Grace.
Show more
Let's talk about sex, baby! 
💭 ... what turns you on? 
💭 ... how does it feel asking for what you want? 
💭 ... what green flags do you look for in a relationship?
💭 ... what's your flirting style? 
💭 ... when do you feel most sexually confident? 
Whether you're getting curious, getting up your courage, or just getting turned on, the Sync Set is the perfect tool to start a better conversation.

Explore 50 questions about pleasure, dating and relationships, specially designed by our sex coach Georgia Grace. 
Plays well with everyone: yourself, your lovers and your friends!
Talk about sex, no awkward vibes
Talking about sex and intimacy can be incredibly affirming, fascinating and connecting - but it can also feel awkward, tricky and a bit vulnerable to get started!
Open up the conversation intimacy with questions designed to stimulate great discussions
50 tried-and-tested expert questions
Questions designed by NORMAL's certified sex coach Georgia Grace, based on her work with individuals, couples and groups in workshops & in clinic
Explore a wide range of topics around intimacy - from masturbation, sex & fantasy, to dating, relationships & more
Get in sync with your pleasure
Explore your turn-ons and turn-offs, curiosities and fantasies in a safe space for solo enquiry
Build your confidence in asking for what you want & sharing desires with partners
Discover & explore desire together
Kick off date night (or just Wednesday night) with questions designed to inspire, provoke reflection and connect more deeply with a partner
Or, play with close friends and a bottle of wine (we love this option!)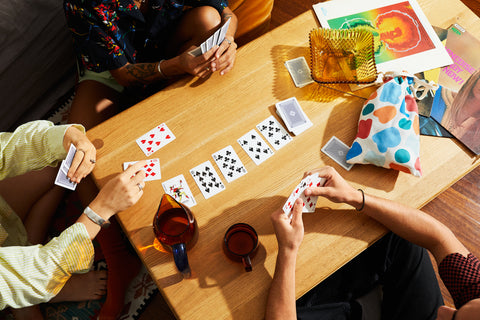 Where to use The Sync Set
Start a new conversation, wherever you like.

Bring your Sync Set on holiday, go a little deeper on your next date, grab a bottle of wine and your best mates, or store it on your nightstand for a moment of inspiration every night...

How should I use the Sync Set?
With the Sync Set, it really is choose-your-own-adventure! These prompts are designed to start awesome discussions, no matter the context.
For example:
Use the questions as prompts for solo reflection, for connecting with a partner, or sparking amazing conversations with friends
Go through the whole set at once, or space it out over weeks (or even months)
Answer every question, or just the ones that feel interesting, relevant and comfortable for you
Shuffle, draw one at a time, or throw them all on the bed and roll around in them!
What type of questions should I expect?
The Sync Set includes 50 questions covering everything from your experiences to your unique desires and attitudes to topics like romance, dating, relationships and love (and so much more).

Here are a few examples:
What's your flirting style?
Who do you choose to be vulnerable with, and why?
What turns you on?
How has sex changed for you over the years?
What green flags do you look out for in relationships?
When do you feel most sexually confident?
Can I bundle the Sync Set with other Normal products & save?
You absolutely can!
If you'd like to explore new sensations solo or together while you're enjoying the Sync Set, check out our kits which include the set - like The Debut (perfect for beginners), Lovers I (a selection of our most popular partner toys for people with penises) and Lovers II (a selection of our most popular partner toys for people with penises).
What do Normal products arrive in?
Your products arrive in an unmarked, compostable padded mailer bag (so you can focus on the good vibes, stress-free).
What will it say on my bank or credit card statement?
Your purchase will be billed discreetly as a purchase from 'Normal Wellness'. Your product will arrive in a sealed, biodegradable mailer bag, with no logo or markings indicating that it is from Normal.
Where does Normal ship to?
Currently, we only ship our products to customers in Australia.
But if you want to try our free sexual wellness video courses, like The Modern Guide to Sex and Come Together, you're welcome to access them from anywhere in the world.
Does the 100 Night Stand policy apply to the Sync Set?
Our 100 night trial policy just applies to the toys in our range - however, we love hearing all of your feedback and thoughts so we can keep making sexual wellness products you absolutely love.
If you'd like to share anything with us, feel free to email our team on hey@itsnormal.com any time.
The Sync Set Reviews
Brilliant!

If there's ever been anything you want to discuss about sex and intimacy, maybe something you didn't know how to bring up, the Sync Set is a must!

The best!

I was skeptic at first but they have been amazing in bringing up conversations we otherwise would have felt uncomfortable or awkward in raising. We feel like we understand each other a lot more and it has intensified our connectivity. Best enjoyed on a cosy night in after dinner with lots of mood lighting.
Reviews Loaded
Reviews Added