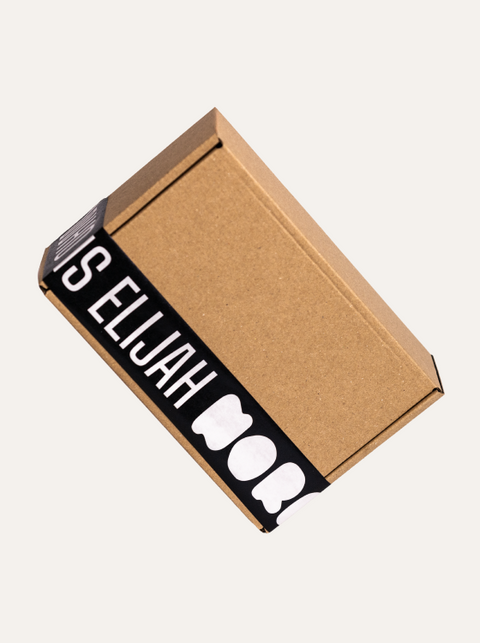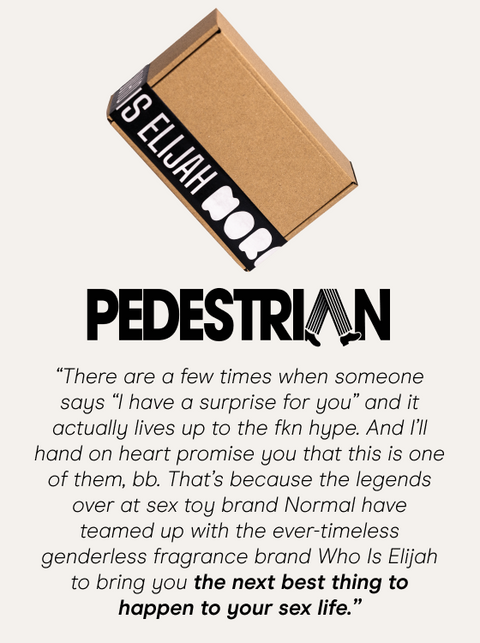 The Mood Kit
An exclusive collab with Sydney fragrance house Who Is Elijah to set the mood.
Show more
A kit designed to set the mood for pleasure. Bring sensuality back into the ordinary to create moments that elevate every day and night.
Muse, Nightcap & Morning After scents (RRP $70)

Sync Set conversation cards (RRP $40)

100mL Rub Me oil (kit exclusive, RRP $40) 
How to use the Mood Kit
Bring pleasure front of mind any time, whether you're starting the day, unwinding from work, or heading into the evening.
Each element of the kit is designed to engage & stimulate your senses in a different way - so choose your own adventure.
Build intimacy with deeper conversations
Let's talk about sex, with the Sync Set conversation cards.
Explore 50 questions designed by normal's sex coach, georgia grace. dive into pleasure, libido, dating, intimacy, relationships & more.
Designed to help you get in sync, solo or together.
Answer questions like:


💭 ... what turns you on? 
💭 ... how does it feel asking for what you want? 
💭 ... what green flags do you look for in a relationship?
💭 ... what's your flirting style? 
💭 ... when do you feel most sexually confident? 
Capture the mood with scent
Choose notes to capture the mood of your day, with three hand-filled genderless modern fragrances.
Muse: Like your favourite leather jacket, instantly embody your most confident self. Earthy, musky, floral.

Nightcap: For the nighthawks who live life to the fullest with no regrets. Woody, earthy, leather.

Morning After: Memories from the night before linger in your mind. Woody, leather, musk.
Get in touch with all-natural body oil
A luxurious oil designed to soften skin, awaken bodies and feel present.
Use for slow massage, as a bath oil, or rub in for long-lasting hydration.
Pairs well with long slow evenings & lazy mornings, solo or together.
Organic, vegan & naturally scented by almond, sweet orange & patchouli oils.
Who is the Mood Kit designed for?
Sensuality is about more than just partners - it's a relationship we have with ourselves, every day of our lives.
The Mood Kit suits self-care, sharing with a lover, or just making your bestie feel special.
What are the fragrance notes & ingredients in Muse, Nightcap & Morning After?
NIGHTCAP.
This woody leather scent will transport you to a thrilling moment in time. Your lover will want to rip your clothes off, just to be closer to your skin.
THE FIRST IMPRESSION pear, cardamon, violet leaf 
THE HEART orris root, cypress, west Indian sandalwood 
THE SILLAGE blonde cedar, mysore sandalwood, Madagascar vetiver
Alcohol (100% Natural, derived from Sugarcane), Parfum, OTNE, DPMI, Alpha-Cedrene, Rose ketones, Cedr-8-ene, Longifolene, Beta-Cedrene, Aqua (water).
MUSE
A subtle scent, that leaves a less than subtle mark. Muse doesn't wear you, YOU wear muse.
THE FIRST IMPRESSION solar 
THE HEART warm floral, jasmine absolute 
THE SILLAGE ambergris, ambroxan, musk, dry-woody amber, garwood, moss
Alcohol (100% Natural, derived from Sugarcane), Parfum, Benzyl Salicylate, Benzyl Benzoate, Benzyl Alcohol, Eugenol, Linalool
MORNING AFTER
The close and exhilarating feeling of the warmth of your lover's skin against yours. Evokes a feeling of irresistible, addictive desire. Merging the comforting feeling of the past and exhilaration from the unknown. MORNING AFTER balances perfectly in-between.
The First Impression violet, cardamom The Heart iris, papyrus The Sillage musk, leather, amber, cedar, Australian sandalwood
Alcohol (100% Natural, derived from Sugarcane), Parfum , Farnesol, Geraniol, Citral
What's in the Rub Me body oil, and how should I use it?
What's inside
Organic, vegan & naturally scented.

Almond oil, sweet orange oil, patchouli oil, grapeseed oil, mct oil, sunflower oil, silica.
Usage
Use for massage, as a bath oil, or rub in for all-day hydration.
Avoid sensitive skin & internal areas (think of me as foreplay, not the main course).
Store me in a cool & dry location.
Where can I find more information on the Sync Set conversation cards?
Where does Normal ship to?
We ship from our facility in Sydney to all locations in Australia.
Are Normal orders delivered discreetly?
Your order will be delivered discreetly in an unmarked padded mailer bag.
What will it say on my bank or credit card statement?
Your purchase will be billed discreetly as a purchase from 'Normal Wellness'.

Your product will arrive in a sealed, biodegradable mailer bag, with no logo or markings indicating that it is from Normal.
What if I have more questions?
Head to our general FAQs section, and if you can't find what you need, email our friendly customer support team via hey@itsnormal.com.
We pride ourselves on making sure you never regret an experience with Normal, so if you're not feeling satisfied, please do reach out - we will do everything we can to help!