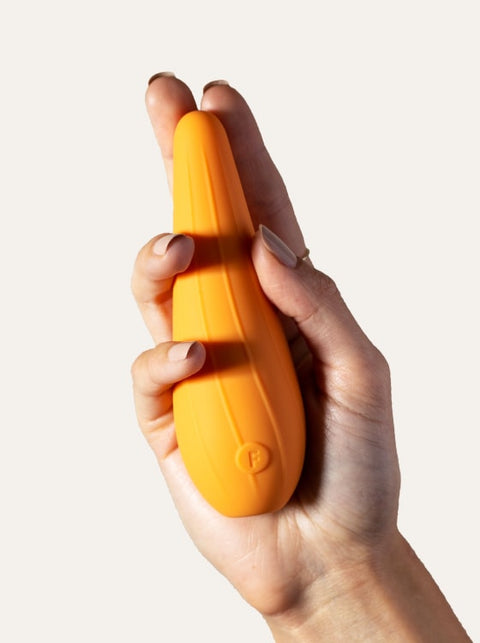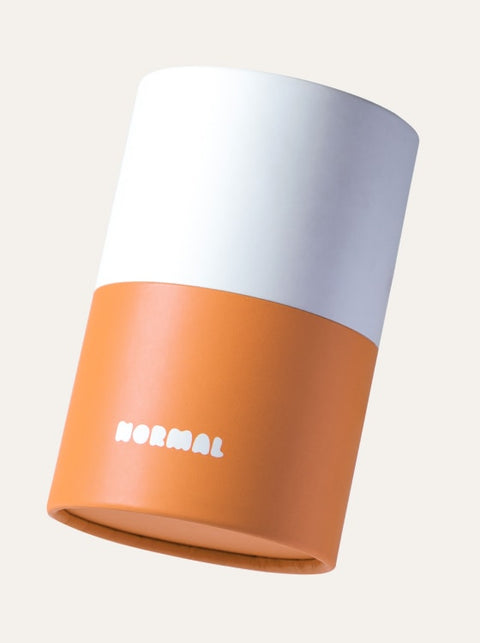 Frankie
Small and powerful vibe designed to hit the spot.
Show more
Getting straight to the point, Frankie concentrates vibrations into a rounded point that can be focussed on tighter spots (like the clitoris), helping you find the perfect spots and motions that work for you.

You can also use Frankie to explore a wide range of other erogenous zones (labia, perineum, anus, nipples) on yourself and your partner. 

No regrets, with 100 night exchange
Life is too short for sex toy regrets!
If you don't love your toy for any reason, return it within 100 nights for store credit.
Discreet shipping & billing
No need to worry about the neighbours - all orders arrive in unmarked mailer bags
Billed discreetly as 'Normal Wellness'
Premium body-safe materials
Made from non-reactive, non-porous materials.
Free from all the nasties (phthalates, PVC, vinyl, jelly rubber, TPR/TPE & latex).
Loved by 25,000 very satisfied Aussies
Designed to make sexual wellness products stress-free, shame-free & regret-free
Australia's best-reviewed sex toy brand Trustpilot: scroll down to check them out for yourself👇
Our sex coach Georgia introduces Frankie
Certified sex coach Georgia Grace delves into the anatomy of pleasure, shares her favourite techniques, and explains how to make the most of Frankie in this easy how-to video.
Easy USB charging & up to 2 hours per charge
Comes with a complimentary reversible collection bag for all your favourite things
Quick responses and ongoing advice from our knowledgeable team

Frankie Reviews
Me 1 Menopause 0

Taking charge of my body again as I navigate menopause this little tool is helping me rekindle a romance with my self worth and femininity

Love love this

Empowering

Good addition to a complex case

I have a few health conditions and medications that make orgasm arduous. I wasn't sure this would be any good for me but it is different from my other tools and so it adds variety and helps warm things up - my only downside right now is that the batteries don't last as long as I need. The soft end is nice and stimulates a broader area than my other toys but not too much that it doesn't do anything for me. I think with enough time on my hands I could achieve orgasm using this!

WOW!!

Best purchase of 2023! first time I have ever had one and I didn't realise I was missing this in my life.

It charges fast and actually lasts a long time so I don't have to re charge often. (and it gets used often)

Great fun

Frankie is a great companion for external play, by itself or combined with other toys. Easy to use and good combination of settings.

4 Stars

Honestly I have no idea why it took me so long to buy a vibrator! As a first time user I found it super easy and satisfying to use! Im already looking at gettting another type of toy!

Also love that its made in Aus and comes in cute, eco friendly packaging.

Would 100% recommend
Reviews Loaded
Reviews Added
How to explore Frankie
1. Find your sweet spot: Use Frankie in solo enquiry to map your erogenous zones and explore your biggest pleasure points.

2. Get in the mood with outercourse: Bring Frankie into foreplay (or 'outercourse'), and explore handing control to a partner to build anticipation and pleasure.

3. Reach new heights: Use Frankie solo or with a partner to edge towards and away from orgasm with added stimulation on spots like the clitoris, for a more powerful peak!
Where to use Frankie
Where can't Frankie go?! (Inside your body, but yeah, pretty much everywhere else!).

From your clitoris, vulva, perineum and inner thigh, to lower back, upper back, neck, nipples and even external anal play (just clean afterwards)… wherever you're looking to hit the spot, Frankie is the perfect toy.
Recommended
You may also like these products
Where can I find the instructions for my purchase?
We deliver a paperless digital product guide to you via email when you make your purchase. 

Additionally, all of these product guides are stored here permanently.
If you have more questions, feel free to check out our General FAQs - and of course, our friendly customer support team are just an email away at hey@itsnormal.com!
What do Normal products arrive in? What's included in my delivery?
Your toy will arrive with a charging cord and a complimentary collection bag for storing your sexual wellness essentials.
We are committed to making our products as sustainable as possible (and we know what it's like to lose the instructions at the worst moment), so your paperless product guide will be emailed to you in advance of your product arrival (and you can find all of the product guides here whenever you need them).
What are your toys made from? Is it body-safe?
All of our toys are made from non-reactive, non-porous body-safe silicone, and free from all the nasties (phthalates, PVC, vinyl, jelly rubber, TPR/TPE & latex).
Plug one end of your USB charging cord into a USB port, and connect the other end to the toy.
Our toy charging ports are in different locations and may look different on some toys, so we recommend you check the product guide for your specific product to confirm how to charge.
We recommend giving toys at least 2 hours to reach full charge and regularly charge to keep your toy in best working order.
What will it say on my bank or credit card statement?
We're discreet in the streets, and great in the sheets 🥰
Your purchase will be billed discreetly as a purchase from 'Normal Wellness'.

Your product will arrive in a sealed, biodegradable mailer bag, with no logo or markings indicating that it is from Normal.
Where does Normal ship to?
Currently, we only ship our toys and sex essentials to customers in Australia - sign up for our mailing list to hear all about it when we launch in new places!
And our free inclusive sexual wellness education resources are available globally, and already used in over 40 countries and counting.
Check out our library of guides and articles, our courses The Modern Guide to Sex and Come Together, and our popular Instagram (where we do bite-sized education all year round) here!
What if I have other questions?
Check out our general FAQs page, and if you can't find what you need, send an email to our friendly customer support team via hey@itsnormal.com.